Need to Know Before Purchasing Balcony Flooring Tiles
ofc_admin
Page Highlights
Not all composite decking tiles are the same.  The right blend of wood to plastic is essential in preventing water absorption
The deck tile "cap" is a protective layer and should be glossy, not matte finished
A glossy cap prevents tile warping, scuff marks, stains and fading from sunlight
Modular floor tiles need to breathe through ventilation holes
Capped composites do not require maintenance other than cleaning with house vacuum and mop
WPC COMPOSITE
Quality Matters Most
In the early 2010's, when  1×1-foot WPC deck tiles first entered Canada making their way to outdoor balconies, porches and rooftop terraces, it became apparent that some had a flaw.  The problem stemmed from the matte surface finish on the top and sides of each tile.   This porous, non-capped feature made the tiles prone to watermarking and staining from grease and oils (see photo below).  This lack of a physical barrier also made them prone to water absorption (ingress) if the tile 'sat' in pooled water, leading them to premature weathering.  In some cases, it led to tile decay, rotting and even warping.  However, it didn't take long for the remedy to enter the scene.
Since the inception of Outdoor Floors in Toronto in 2014, I have learned a lot about interlocking (clickable) outdoor deck tiles. Much has changed over the years particularly with the introduction and subsequent explosion of robust wood-plastic composite (WPC) tiles into the Canadian market. Their predecessor cousins, WPC deck boards, commonly used in wooden backyard house decks, have been around since the 80's and also underwent several iterations to ultimately become superior products because of their exceptional durability. The same evolution is occurring with WPC deck tiles.  Thus, not all composites are the same — they differ mainly in the type of plastics used  as well as the proportion of wood-to-recycled plastics. 
First-generation WPC tiles did not have a cap barrier preventing the influx of water from rain or snow. After evaporation, darker pigmented splotches formed and could not be easily removed, leaving water marks behind. It was caused by a chemical reaction between water and colour pigments on the tile's surface. Newer WPCs have a glossy-waxy (but non-slip) cap barrier preventing water ingress and markings.
Despite early teething issues, the main commonality among all composite deck tiles is their heavy-duty 'backbone'. This formed the foundation to which later improvements ultimately made it become superior to other tiles made from plastics, rubber or wood. Wood-plastic deck tile manufacturers soon discovered the type of plastic as well as the ratio of wood-to-plastic made them stronger and completely resistant to weathering, rot and decay. Equally important was the development of a cap barrier ("capping") by baking in a microscopic glossy plastic layer during the manufacturing process. This was the icing on the cake; almost literally. It crowned the newer WPC deck tiles as KING of the Road, changing the world of deck tiles because they no longer were prone to water absorption and consequent warping or mold growth. They were now waterproof, weatherproof, mildew- and mold-proof.
Glossy Cap Protection from Elements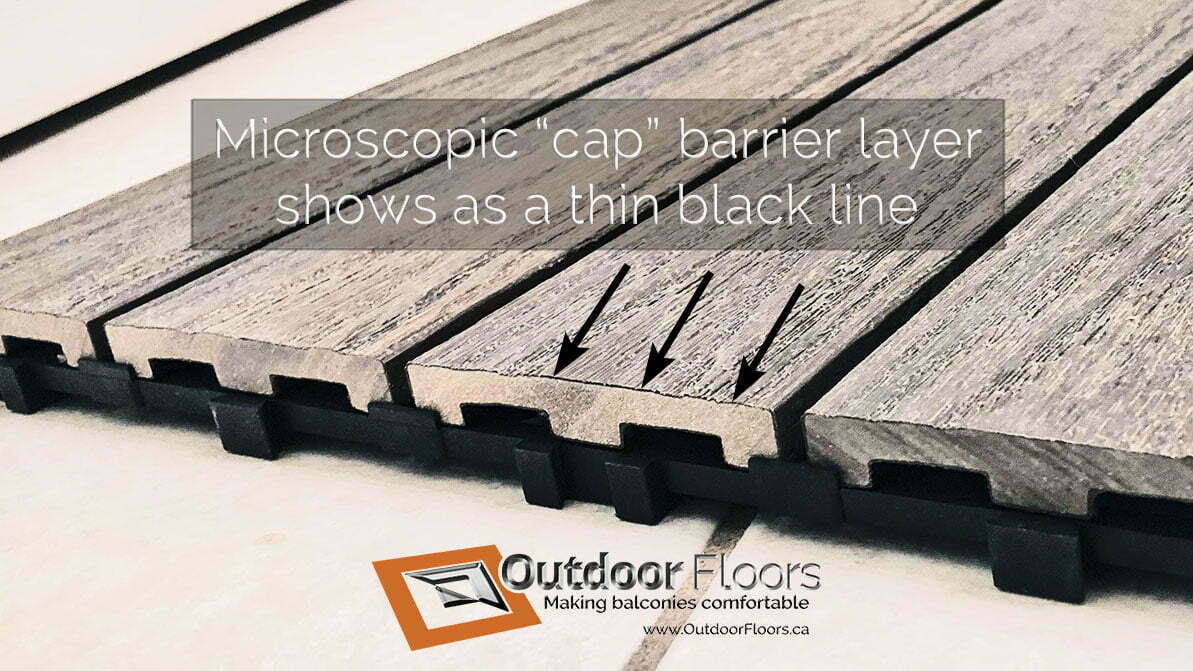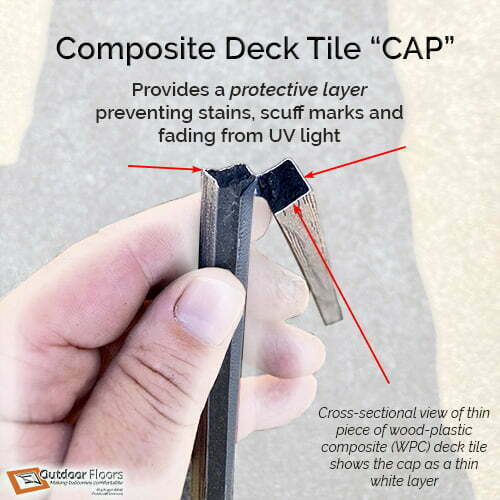 Herringbone (zig-zag) floor pattern give the false impression that two different tiles were installed. It was only one. Also, note the glossy (non-slip) cap finish to the floor's surface
Over the years 2017-2018, these heavy-duty deck tiles no longer had their plastic-looking finish created by the cap layer. However, they still retained the cap's barrier function. The cap barrier also provided a substrate for chiseling (embossing) the tile, so that wood-grain patterns and textures could be applied during tile production process. Moreover, under natural sunlight, balcony floor installations utilizing particular tile patterns such as parquet (checkered) or herringbone (tiles at 90º, to each other) thoroughly highlighted the faux-wood grain finishes. It provided amazingly contrasted eye kandy. This gave another positive jump in the evolution of composite deck tiles because they started to resemble real, natural wood. This wood grain texture made them pleasing to the eye; amazing stuff when certain tile patterns were installed (especially herringbone) . Capping and embossing also allowed for colour and wood grain variations among tiles of a particular line. In fact, the newest tiles have colour and grain variations within a single slat of a single tile.
Finally and most recently, the cap surface layer was designed to increase slip resistance when walking on wet tiles. This helped to minimize the risk of slips and falls. It also incidentally led to an amusing feeling when walking barefoot on a tiled floor. No shoes required! In fact, wearing no shoes or slippers is highly recommended when it comes to high quality interlocking wood-plastic composite deck tiles. Going barefoot feels great.
Outdoor Patio Deck Tiles Need to Breathe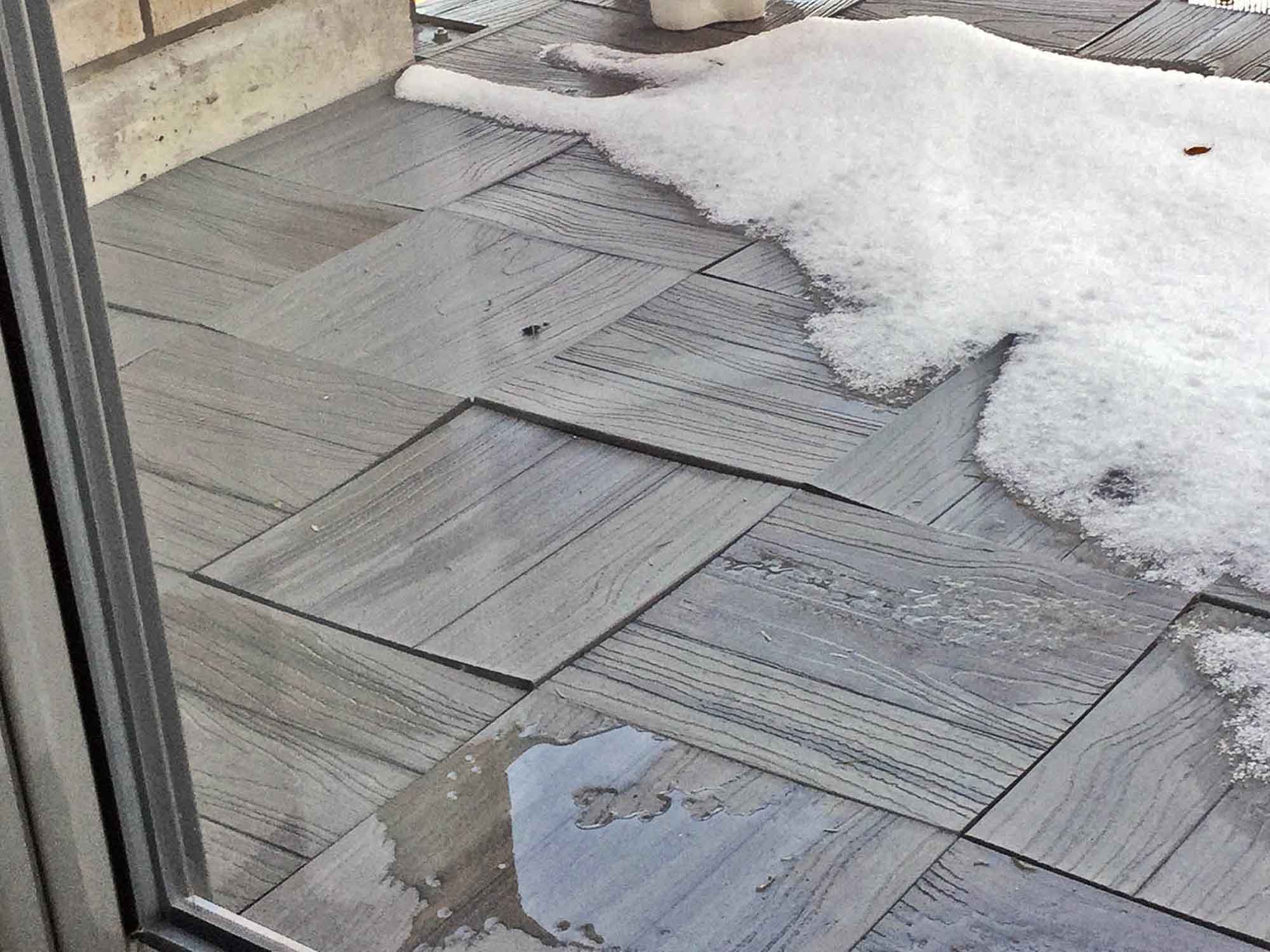 Mould Resistance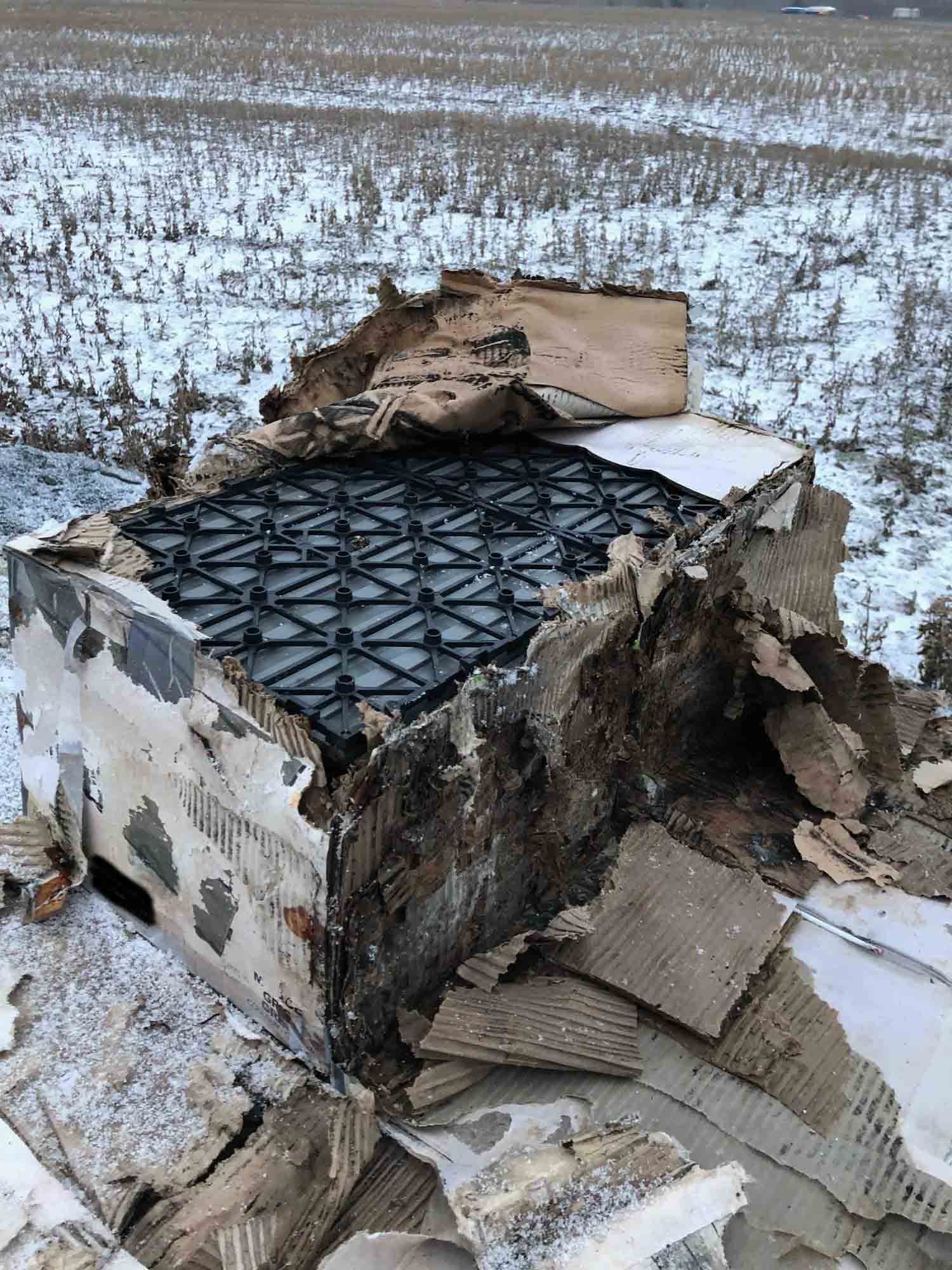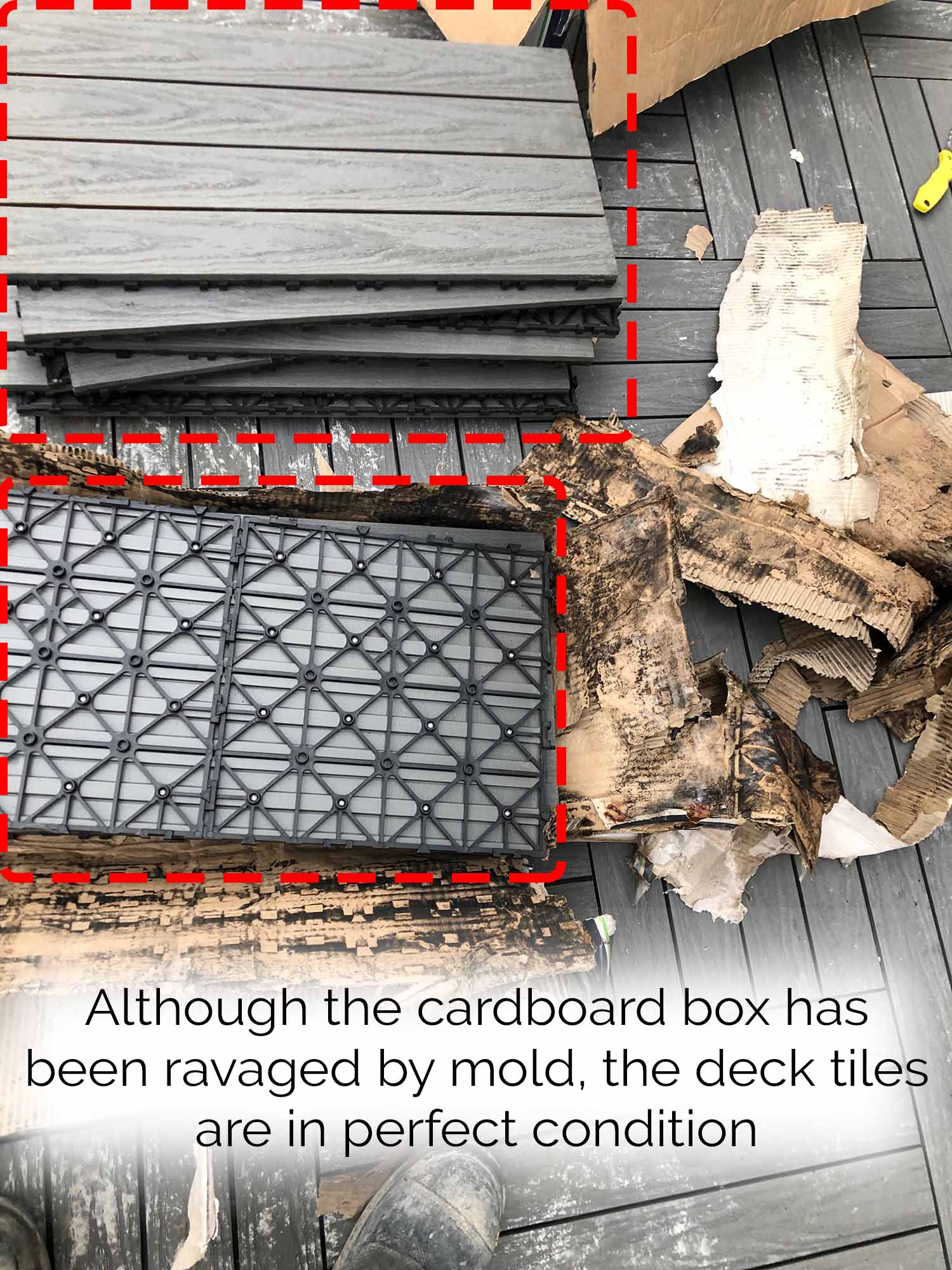 WPCs Resistant to Fading but Hot in Direct Sunlight
Plastic or wooden deck tiles inevitably will fade about two years post installation. This occurs sooner in areas with direct sunlight exposure such as on rooftop, open-air terraces. To regain their original appeal, wood products must be sanded and stained but this costs time and money. Not ideal for condo residents who prefer not to maintain their outdoor floors. This is not the case for WPC tiles.
Wood-plastic composites are not susceptible to the fading effects of the sun's ultraviolet (UV) light. They simply do not fade from what I've seen over 7 years of observation. However, composites do heat up under direct sunlight and this gets to a point that shoes or sandals are needed (solved by using an outdoor mat or rug). This is one of the few downsides to WPC products.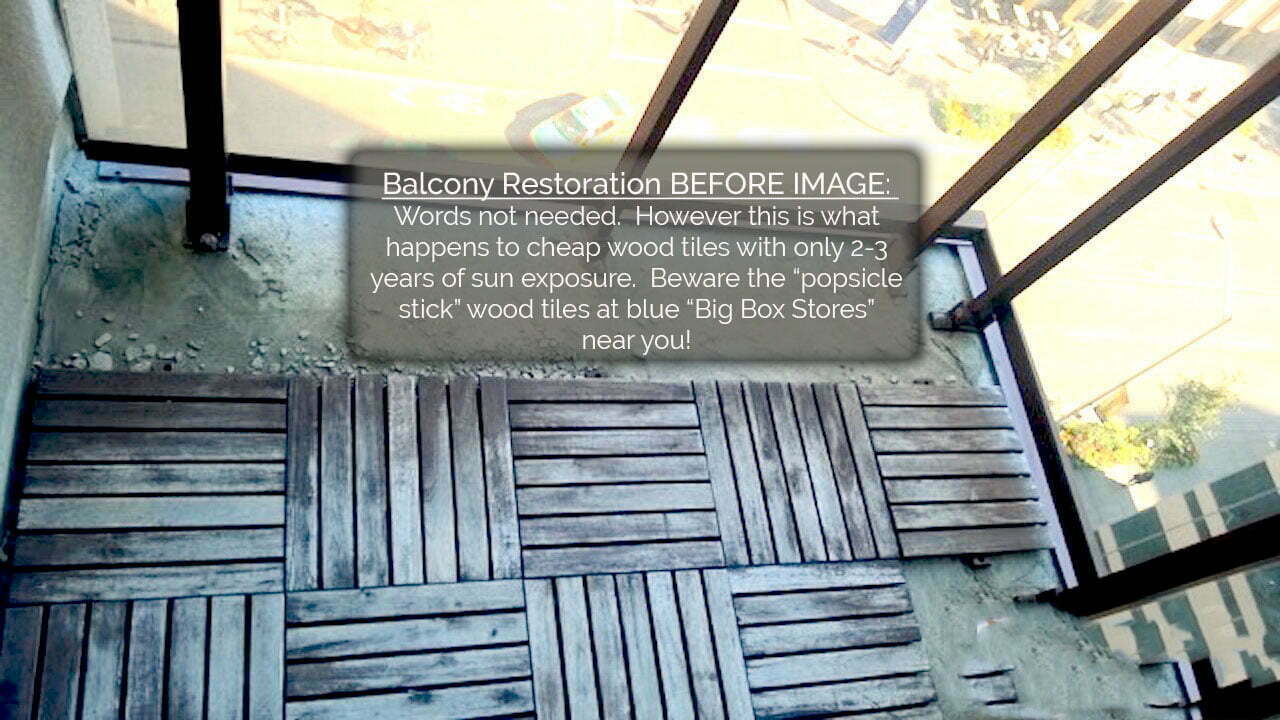 Deck tiles made from acacia wood (like Ikea's Runnen tiles) are prone to premature fading from sunlight. They will need replacement in 2-3 years. [This one needed to be done long ago!]
Acacia wood tiles are not robust enough to handle the harsh Canadian climate. Steer clear!
No Sanding or Staining
"The end product of combining wood and plastic into WPC composites is greater than the sum of its parts", many outdoor flooring contractors have concluded when it comes to their impressive durability. This can also be applied to their upkeep as wood-plastic composite floors simply do not require maintenance. The only thing to keep in mind each spring however, is to clean them once or twice a year. This is easily done with a house vacuum and spray mop. Soap, warm water and a scrub brush will tackle most stains. One final benefit of these amazing flooring products is they're resistant to the mould, rot and decay that would otherwise affect wooden deck tiles in damp, moist environments. See some interesting photos below…
Dilapidated Balcony Floor — Just dismiss the spray paint, oil marks and unkempt furniture for a second and take a close look at the surface of these old, wooden deck tiles. Do you see it? YES! That's right… moss! Mother Nature might have her way with wood products but not our wood-plastic composites.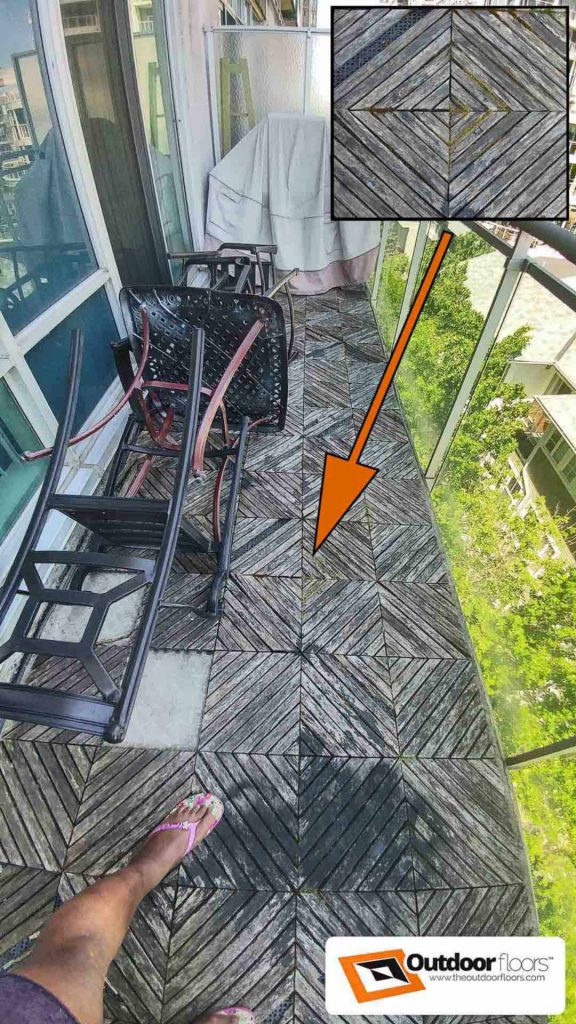 Intelligent Design: Weatherproof Outdoor Flooring
A final fantastic feature is that WPC patio deck tiles are waterproof and weatherproof by virtue of their plastic composition.   In addition, their inbuilt plastic bases elevate the deck slats above rainwater.  Along with their water channels, designed to allow rain water to flow underneath the tile, such intelligent features prevent pooling and promote water egress.  Furthermore, slit-like ventilation holes between each tile slat encourage the floor to 'breathe' and for water to evaporate.  Hurray, thanks for reading this right till the end!  Whoohoo!  Good for you!
Amazing stuff really.  Come get yours now!