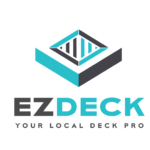 Fantastic Variety of Durable Deck Tiles in Toronto
Deck Tiles Toronto — We offer a wide variety of interlocking composite (WPC) tiles manufactured by NewTechWood and EzDeck.  From greys to beige ("Teak") and brown ("Ipe"), our balcony tile selection offers an array of neutral colours.
We primarily install deck tile sizes of "12-by-24", "12-by-12" and "12-by-36". They're just under 3/4″ in height.  Many great flooring patterns are created with these rectangular and square tiles: linear, staggered-linear (brick wall), parquet (checkerboard) and herringbone (zig-zag).
When choosing a deck tile colour, it's best not to match the interior floors. Instead, because the balcony floor is a separate living space, we believe contrast is best (within reason, of course).  So if the interior floors are light, we suggest a darker shade of outdoor flooring.
A key feature of deck tiles in the harsh Toronto climate is the need for durability. All our balcony flooring tiles have a protective coating called a cap. They're also made with the perfect blend of wood to plastic to ensure longevity yet not look like plastic.
NewTechWood WPC Deck Tiles
NewTechWood Quickdeck WPC Deck Tiles are a versatile and durable solution for transforming your outdoor space. With a 10-year limited warranty, these deck tiles are designed to withstand the elements and provide long-lasting beauty. The interlocking system ensures easy installation and a seamless appearance. Made from wood-plastic composite material, they offer the natural look of wood with the added benefits of low maintenance and resistance to fading, cracking, and warping.
EzDeck WPC Deck Tiles
EzDeck WPC Deck Tiles are a fantastic choice for enhancing the aesthetic appeal of your outdoor area. These deck tiles boast a 3-year limited warranty, providing peace of mind. The interlocking design facilitates quick and hassle-free installation, allowing you to create a stunning deck in no time. Crafted from wood-plastic composite material, they offer the timeless charm of wood while being resistant to decay, insect damage, and fading. With EzDeck, you can enjoy a beautiful outdoor space with minimal maintenance requirements.